BRUSSELS, BELGIUM / AMSTERDAM, THE NETHERLANDS European signals tend to be mounted lower than US signals, perhaps due to the signal generally being on the same side of the intersection as the traffic it is controlling. In the cities, there aren't many signals mounted on overhead arms. The Belgium and Netherlands signals look similar to US train signals. Every Netherlands signal (at least the ones in Amsterdam) has a number at the top (for identification purposes). (Above photos by Mark Furqueron)





Another view of a "typical Dutch signal" in The Netherlands. (Photo by Ruth Rietveld)

Bikes can be just as important as autos...proven by this signal! (Photo by Ruth Rietveld)




GENEVA, SWITZERLAND These are painted like the Belgium ones, but the design is more like the US.




Piccadilly Circus- LONDON, ENGLAND In England, before the light goes green, there is a short red with yellow phase. (Photos by Mark Furqueron)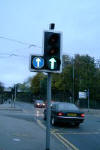 Signal From Sheffield, England that utilizes a microwave detector at the top of the signal to detect traffic. (Photo by Peter Bull)

EDINBURGH, SCOTLAND- The signals here are very similar to a combination of the British and Netherlands ones. (Photo by Cheryl Meddings)


PARIS, FRANCE- Very different looking traffic signals . Note the smaller signal for the first driver in the cue, since European signals are installed on the near- side curbs. These signals are located near the"Place de la Concorde". (Left photo by Mark Furqueron, right photo by Ruth Rietveld)


A different looking French signal!

ITALY- Italian Signals typically are made of polycarbonate plastic, and use a combo 12" red with 8" yellow and green sections. The pedestrian signal are unique, in that they use three-section signals to indicate the walk, pedestrian clearance, and don't walk phases.
Mast arms have a gentle up-sweep, and the overhead signals use black back plates with a white stripe along it's outer edge.

Close-up view of Italian signal, showing the interesting lens design. (Above photos by Andrea Greggio)


All contents Copyright 1997-2001 by John Rietveld